How does it work?
Party guests will enter the booth and press the red button to start. The booth takes four shots at 5 second intervals. Guests may view their photos at the LCD screen while waiting for 30 seconds for their prints. Photos of the event may also be downloaded from the gallery.
What do I get?
You get a CD of all the photos as well as an online gallery. If you get onsite printing, guests can take home prints as souvenirs. There are 2 types of printing options. One is a 4×6 print with the 4 photos with your name and event details. The other option is two 2×6 photo strips, one copy for you and the other for your guests.
Option 1: one 4×6 photo with event details
Option 2: two 2×6 photos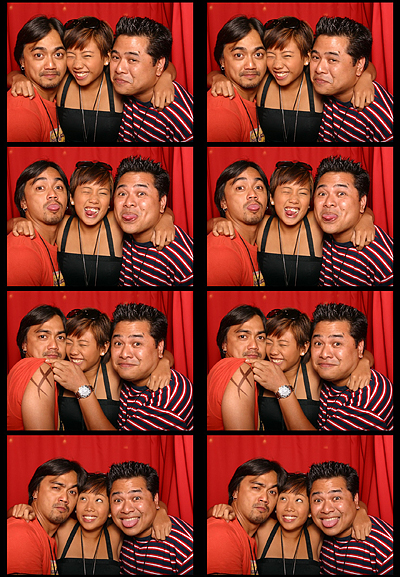 How do I book it?
Shoot us an email or send an sms to 0917-6246464 to check for booth availability.
One Response to "Clique Booth"
[...] a photobooth with that old school feeling without the old school hassle. They call their service Clique and what you can do is rent their photobooth for around 15,000-20,000 pesos but take as many [...]

03 Feb 2009 at 4:29 am